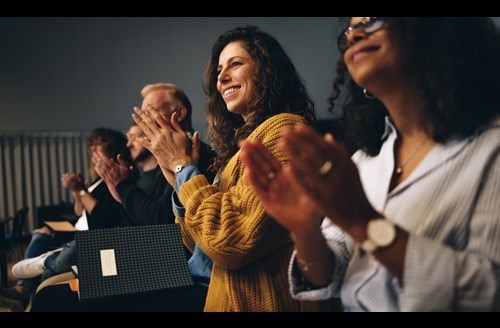 This year it feels more critical than ever for Brokers to have the opportunity to explore new technologies and strategies, network with other industry professionals and fully understand the changing health insurance landscape to grow their businesses in the new year. As a result, many of our favorite industry conferences are back with in-person events this year–offering an excellent opportunity to interact face-to-face. If you're looking to boost your business this year, FormFire has compiled a list of the best conferences for Brokers to attend:
When: February 21-23, 2022
Where: Las Vegas, Nevada
Back as an in-person event this year, HCAA's annual executive forum provides a tremendous educational opportunity for Brokers and TPAs to hear a prominent lineup of speakers covering topics impacting businesses today, including innovations, cybersecurity, selling in a virtual world and more. In addition, there is a live stream option for those unable to attend in person.
When: February 28-March 2, 2022
Where: Washington DC
The National Association of Health Underwriters (NAHU) annual Capitol Conference will take place in Washington DC this year and focus on topics related to health reform. In addition to hosting a keynote speaker and legislative forum, attendees will join breakout sessions and opportunities to interact with legislative representatives. NAHU is also offering a virtual option for the event.
When: February 28-March 1, 2022
Where: Dallas, Texas

SIIA's inaugural Price Transparency Forum will host price transparency experts, from federal agency regulators to self-insured industry professionals, to talk about the opportunities and challenges in self-funding. In addition, this forum will review what new rules and regulations, such as the Transparency in Coverage Rule and the No Surprises Act, mean for your clients.
When: March 16, 2022
Where: Cleveland, Ohio
The Northeast Ohio Health Underwriters Association (NEOHUA) provides a unique local opportunity to expand your market presence and grow your business this year. The association's annual Products Expo is back in-person. It will feature hot topics in benefits compliance and showcase leading health benefits management software.
When: March 30-April 1, 2022
Where: Orlando, Florida

The SIIA Spring Forum will bring together many senior-level self-insurance industry professionals for the first half of 2022. Industry expertise and perspectives will be shared through networking activities, targeted educational sessions, group discussions and a new focus group participation opportunity.
When: May 10-13, 2022
Where: San Diego, California
The National Association of Healthcare Access Management (NAHAM) will be holding its annual conference and exhibition in person this year with the opportunity to purchase on-demand sessions for those who cannot attend in person. The event will feature a broad range of topics important to patient access professionals, including overcoming staffing challenges, best practices for managing a Patient Access department, implementing the No Surprise Act and other impacts of COVID-19 on facilities.
When: May 23-25, 2022
Where: Austin, Texas
The 18th annual 2022 BenefitsPRO Broker Expo will feature three days of content to help attendees prepare for new issues, embrace challenges and find solutions to serve their employer clients better and improve their practice. In addition, sessions will focus on strategy, including how political changes can be incorporated into a strategic business plan, integrating technology and business analytics to your business, and sales strategies for new revenue opportunities.
When: June 21-22, 2022
Where: Las Vegas
AHIP 2022 (formerly AHIP Institute & Expo) will be an in-person event this year to create an environment that inspires innovation and action about what's next. AHIP's flagship event will include keynote presentations, panel discussions, and interactive sessions on advancing community health, achieving value-based care delivery, optimizing the consumer experience, industry transformation and emerging technologies.
When: June 25-28, 2022
Where: Austin, Texas
The National Association of Health Underwriters (NAHU) annual convention will provide underwriters with a better understanding of new practices and insight into significant trends in health questionnaire technology.
When: October 11-13, 2022
Where: Phoenix, AZ
The largest self-insurance/captive insurance industry event will be back with its traditional, entirely in-person format. SIIA's annual conference is focused exclusively on the self-insurance and alternative risk transfer marketplace. It's an excellent opportunity for anyone involved with self-insured group health plans or insurance companies.
Start 2022 re-energized and ready to rethink your digital strategy for quote-to-sold Small Group insurance benefits. Contact FormFire today to try out our industry-leading software for free.