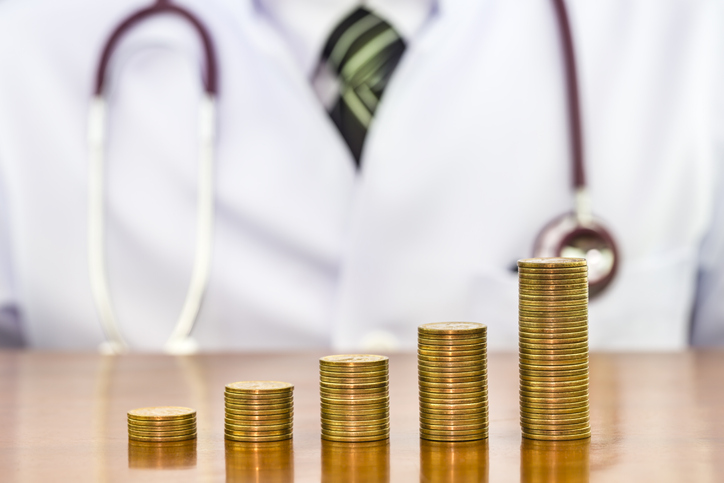 If there's one thing Employers can count on every year, it's that their healthcare premiums will increase. Healthcare premiums, on average, have increased annually by about 4 percent over the past decade. In 2019, the average total cost of employer-provided health coverage increased to $20,576 for family plans, the Wall Street Journal reports, with Employers typically bearing 71 percent of that cost. When you multiply that number by your workforce, that's a sizable portion of your budget. To combat rising healthcare costs, many employers are getting creative when it comes to reducing costs, while maintaining a competitive benefits package. Below, we've outlined five ways you can control employee healthcare benefit costs at your organization.
Promote Employee Health and Wellness
Unhealthy habits can drive up your long-term healthcare expenses. The state of your employees' physical and mental health should be a primary focus among Employers looking to save on healthcare. According to Willis Towers Watson's Best Practices in Health Care Employer Survey, investing in employee well-being is one of the top strategies used to contain healthcare expenses. Consider implementing health and wellness initiatives like gym memberships, smoking cessation programs and workplace wellness programs to help promote a healthy lifestyle for your employees.
Offer Virtual Care Options
Virtual care (also referred to as telemedicine or telehealth) allows health care professionals to evaluate, diagnose, and treat patients online or over the phone, usually within 15 to 30 minutes. It can also include digital coaching, chronic condition management, physical therapy, psychological care and remote monitoring. "Telemedicine stands out as the fast-growing health care cost-management technique among Employers," Julie Stich, Vice President of Content at the International Foundation of Employee Benefit Plans, told the Society of Human Resource Management (SHRM). "Employers appreciate the 24/7 convenience of telemedicine, and both Employers and employees see savings because costly trips to urgent clinics or emergency rooms might be avoided."
Educate Employees to Make Informed Benefit Decisions
Sure, your employees likely make most of their healthcare decisions when you're not around. But, for Employers looking to cut costs, it's important to take a proactive approach to educating and arming your workers with the tools needed to make the most cost-effective healthcare choices. According to Healthcare Bluebook, employees often don't realize that prices for health care procedures, medication and medical devices can vary by 500 percent or more. Providing resources like price transparency and comparison tools as well as healthcare spending education programs can help employees understand how their actions impact costs and make more informed decisions.
Switch to a High-Deductible Health Plan
Health savings accounts (HSAs) linked to high-deductible health plans (HDHPs) have risen in popularity among Employers seeking to reduce healthcare spending. According to Devenir, an investment advisory and consulting firm, HSAs have risen 12 percent year-over-year, likely due to the benefits these plans provide. Since these health plans have higher annual deductibles, they also have lower monthly premiums, making them much less expensive for Employers to offer. Additional advantages of offering HSAs covered by HDHPs include tax deductions and improved employee retention.
Leverage Insurance Technology
The time and labor involved with managing healthcare plans is often the biggest burden Employers face. Between answering HR questions and transaction costs, controlling overhead expenses like benefits enrollment can be a great way to save money and maximize your bottom line. Leverage technology like FormFire's online insurance platform can help lower costs while providing better service to your employees. Our all-in-one digital platform streamlines the enrollment process, from quoting to plan selection to managing qualifying life events and more. Contact FormFire today to learn more or request a free demo.